Wedding Photos Can Be Found at:
Wedding Photos by Jonathan and Sue
and
Wedding Photos By friends of Christine
More to Come
---
You're invited to celebrate our wedding.
Map & Directions (Click Here)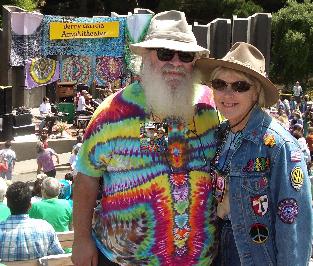 Jerry Garcia Amphitheater
Selected as the Wedding Location
Sunday, September 23, 2006

Barbara Baumeister Super
and
Bob Student
UPDATE:
The Wedding will be at High Noon. While we are taking photographs of the wedding party, after the ceremony, the guests are invited to start with the potluck buffet.

After the traditional wedding photos everyone will be invited to be in the friends' group shots.

Please make sure that you stop by the Photo Booth on the way into the Amphitheater, from the parking lot. Pat Preble will be taking Guest Photos. Make sure you sign the Guest Book, as well as Bob & Barbaraís address book, where you can update your contact information.

Everyone has selected the perfect potluck dish to bring and only a few people who haven't decided what to bring... so if you havenít decided what to bring, a bottle or two of champagne will be perfect. Or, if you'd rather not bring alcohol, crackers, chips or other "nibbles" are always good. We'll be supplying a keg of beer as well as soft drinks & water.

Children are welcome, but this is a mostly adult event. There will be alcohol served, and there might be the smell of herbs in the drifting air. I know that everyone will be respectful of everyone else wishes and needs. Some of my best friends have been 'Clean & Sober' for over 30 years.

The event will wind down 3ish when Bob & Barbara leave for their honeymoon in Hawaii, and be over by 4PM when the volunteers who have said that they would be on the cleanup crew will do the clean up and pack out the tables & tents. They could use a few more helping hands at the end. So if you want to, it's OK to help.

There will be some foil & ziplock bags for people to take home leftover food. It would be a shame to waste it.

PS: If you havenít RSVPíd yet thatís OK all you need to do is just show up with a potluck and/or champagne early.

Donít forget to bring a card for us Ė that way weíll know that you shared this awesome experience with us!

Bob & Barbara



Youíre invited to celebrate with us at the Jerry Garcia Amphitheater,
McLaren Park, San Francisco, on Saturday, September 23, 2006, Wedding at twelve noon. Doors at 10 AM. Reception to follow about one-ish,.(until 4 PM.)

Wedding Attire will be casual; this is an outdoor venue; the reception will follow shortly after the wedding vows, at the same location. There should be ample parking. The reception will be a pot-luck reception. In lieu of gifts Bob and Barbara request that you bring a wedding card and your favorite dish or drink. We will provide a full-sized succulent roasted pig, as well as a high-quality San Francisco style kegger for all those twenty-five and older. There will be wedding cake for the first two hundred and fifty people.

Please RSVP to my email address below, with your pot luck Item. Several of our closest friends will be there to assist you with your pot luck dish or item. So that we donít end up with 30 Potato Salads let me know what you want to bring by Tuesday September 5, 2006. Some friends have all ready committed to bring tie-dye background and music. Weíre looking for some friends to Volunteer to come early to help with the setup as well as some to help tear down and clean-up after the event because we need to leave at 5PM with the place cleaner then when we started.

Please RSVP to My email address Below or Bob & Barbara, 1543 La Salle Ave, San Francisco, CA 94124. or leave a message at 415-401-0900.

PS: Whoís invited? All our friends! And some of our enemies. Weíre sending hundreds of invitations by mail, email, phone, and flyers. If you know some who didnít get one and should have, you can add them to the list just by emailing me at at my email address Bbelow Ďcause we donít want anyone to be left out. Map and more details are posted on my website www.BobStudent.com and will be updates periodically.
B o b @ Bob S t u d e n t.com With out the Spaces
please no spaming